The short biographies include men from France and from each of the Home Nations. Their stories show the different paths taken from the sports field to the battlefield and highlight the astonishing character each man displayed.
The phrase Sporting Hero is one which is over used in the modern world, but one which aptly described each of these men.
David Beddell-Sivright: 8 December 1880 – 5 September 1915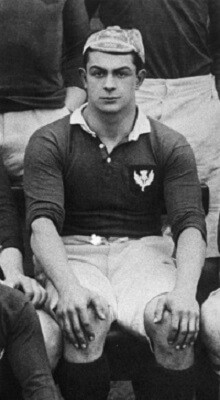 David Beddell-Sivright was born in Edinburgh in 1880 and was educated at Fettes College, where he first began to play rugby. He then went to Trinity College, Cambridge in 1899 to read medicine. He later completed his medical training at the University of Edinburgh. His brother John played for Cambridge University RFC, and gained a single international cap in 1902. Beddell-Sivright had a reputation for aggression, and in 1909 became Scottish amateur boxing champion. Legend has it that after one international he lay down on a city tram track in Edinburgh, holding up the traffic for an hour as no policeman would approach him. After getting up he rugby tackled a cart horse in Princes Street.
Beddell-Sivright played in four Cambridge versus Oxford Varsity matches between 1899 and 1902 and won his first cap for Scotland in 1900. Scotland lost the match against Wales 12-3 but Beddell-Sivright went on to win another twenty-one caps. He is the only Scottish player to have won three Triple Crowns with wins over Ireland, Wales and England within the same Home Nations Championship (now the Six Nations) in 1901, 1903 and 1907. He played for British Isles team on a tour of South Africa in 1903 and captained the British Lions on a tour of Australia and New Zealand the following year. He only played in the opening match after breaking his leg.
Bedell-Sivright liked Australia and decided to settle there. After a year however, he became bored of stock-rearing and returned to Scotland to continue his studies in Medicine in Edinburgh. He had returned to Scotland in time to face the touring New Zealanders and captained his country against them at Inverleith. In 1906 the South Africans were touring the British Isles and Bedell-Sivright was selected for the Scotland side that defeated them 6–0. He became the first Home Nations' player therefore to contest a test match against Australia, New Zealand, and South Africa.
On 25 January 1915 Bedell-Sivright was commissioned as a surgeon in the Royal Navy. He was posted to the Hawke Battalion of the Royal Naval Division stationed at Gallipoli during the Dardanelles Campaign in May 1915. He was loaned to the Royal Scots Fusiliers for a short period and was then posted to the Portsmouth Battalion of Royal Marine Light Infantry. After a period onshore in the trenches while serving at an advanced dressing station, he was bitten by an unidentified insect. He complained of being fatigued and was taken offshore and transferred to the hospital ship HMHS Dunluce Castle. Two days later, on 5 September, he died of septicaemia and was buried at sea off Cape Helles. He is commemorated on the Portsmouth Naval Memorial.
A report on his death in an Australian publication stated, "It is cabled that Dr. D. R. Bedell-Sivright, who captained the British team in Australia and New Zealand in 1904, has died at the Dardanelles. He was a surgeon in the navy, and it is likely that he died on one of the warships engaged there against the Turks. Sivright was a Scottish forward of the most brilliant type, a hard player, but a clever one. He was one of the finest all-round forwards ever seen in Australia from over the seas. Among the forwards of the teams since 1899 he divided honours with A. F. Harding, the famous Welshman, and, at his best, was fit for a world's team. Sivright as captain was somewhat' dour, but as a player he was magnificent. A man of superb physique, it is hard to think that he has died an ordinary death at his age, and not to a bullet from the enemy". Writing in 1919, rugby journalist and author E. H. D. Sewell said of Bedell-Sivright "If a plebiscite was taken on the question: "Who was the hardest forward who ever played International football?" Sivright would get most votes if the voting was confined to players, and probably so in any event."
Bedell-Sivright was one of the inaugural inductees into the Scottish Rugby Hall of Fame in 2010 having been inducted into the IRB Hall of Fame the year before. Edinburgh University RFC have a scholarship in Bedell-Sivright's honour; the scholarships of between £500 and £2000 per year are intended "to attract the best young talent in the UK to play and study at The University of Edinburgh".
Louis Augustus "Lou" Phillips 24 February 1878 – 14 March 1916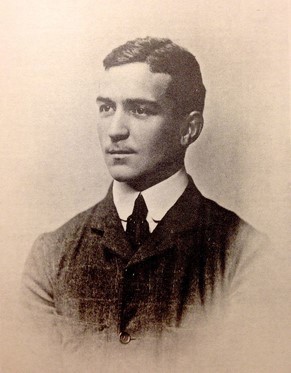 Louis Augustus Phillips was born at Stow Hill, Newport, Monmouthshire on 24 February 1878. He was educated at Monmouth Grammar School and in 1907 he began practising as an architect with Huberston and Fawkner. Phillips began playing rugby while at Monmouth Grammar School. He went on to play at half-back for Newport RFC, earning selection for the first team in 1897. His first season at Newport was disappointing for the club, which lost seven games, after the previous six consecutive years of success. However, he struck a 'historic' partnership with fellow half-back, which lasted until 1901. In total, Phillips appeared ninety times for Newport, scoring nine tries, two drop goals and one penalty. His style was described as follows; 'He had no tricks or subtleties, but he played the orthodox game of the day with supreme success.'
Phillips, who was a strong runner and tackled well, made his international debut for Wales against England on 6 January 1900 at Gloucester. His initial selection was principally due to his partnership at Newport with Lloyd, who also made selection for Wales. During his first game against Ireland, which Wales won 3–13, Phillips displayed 'special smartness' and used 'the acme of judgment', proving also to be a 'splendid defender'. He was reckoned to be amongst the best of the backs, and the combination with Lloyd was excellent. Phillips missed the opening match of the 1901 international season against England due to an injury to his knee. Thinking that he had recovered Phillips was back for the following match against Scotland on 9 February at Inverleith, but within ten minutes he was almost helpless. He played on, and 'his last match was a tragic end to a great if short career', having won four caps for Scotland.
Lou Phillips was also an accomplished golf player. In 1907 and again in 1912, Phillips was Welsh Amateur golf champion. He was also runner-up for the Irish Amateur Open Championship in 1913, and in the following year, 1914, he was beaten in the sixth round of The Amateur Championship. Phillips also represented the Wales golf team, facing Ireland in August 1913.
At the start of the First World War, Phillips enlisted in the 20th (Service) Battalion Royal Fusiliers, and after refusing a commission, served as a sergeant. The 20th Royal Fusiliers was one of four battalions of the regiment raised in 1914 by the Public Schools and University Men's Force. Phillips was deployed to France with his unit on 16 November 1915. On the night of 14 March 1916, while out on a wiring party he was shot through the chest and killed, near Cambrin, France. He is buried in Cambrin Churchyard Extension (Grave L1 10B) along with fifty-two other members of the Royal Fusiliers.
Alfred Frederick Maynard   23 March 1894 -  13 November 1916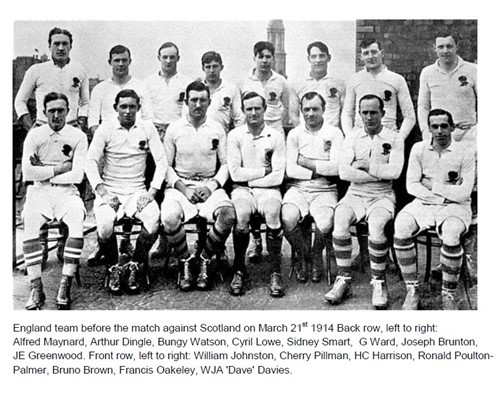 Alfred Frederick Maynard was born in Croydon on March 23rd 1894, the youngest of the six children born to William John Maynard and his wife Annie. Educated at Sussex House School, Seaford and then Durham School, Alfred went up to Emmanuel College, Cambridge in 1912.
Having gained rugby blues in 1912 and in 1913, Maynard played with Harlequins, Durham City and the Durham county team. His England chance would come on the back of his performance in Cambridge's 13 – 3 win in the last Varsity match before the war. All thirty players involved in the match, played at Queen's Club in Kensington in December 1913, served in the war. Nine of these men, seven from Cambridge and two from Oxford would lose their lives before the fixture resumed in 1919.
Maynard was picked to represent England for the first time just a month later. He made his first international appearance on 17th January 1914 in a hard fought game against Wales which the England team won by a single point. Two further caps followed as the England team defeated the Irish at Twickenham, before winning both the Calcutta Cup and the Triple Crown with a 16 - 15 victory against Scotland. It was the final match of Maynard's all too short international career.
At the outbreak of war, Alfred Maynard joined the Royal Navy and was commissioned a Sub Lieutenant. Posted to the Royal Naval Division, he saw service with 6th (Howe) Battalion in the Defence of Antwerp in 1914, the first Suez Canal Raid 1915 and at Gallipoli, where he received a gunshot wound to his leg.
Having recovered from his wound, the newly promoted Lieutenant Maynard was transferred to France with the 63rd (Royal Naval) Division moving to the frontline where the Division was to take part in the Battle of Ancre, the final act in the 1916 Somme campaign. At Beaumont Hamel on November 13th 1916, leading "A" company of which he was Officer Commanding, Alfred Maynard was killed. At the age of 22, he was the youngest of the twenty seven England internationals to die in the war.
Lieutenant Alfred Frederick Maynard has no known grave. He is remembered with honour on the Thiepval Memorial, the Memorial to the Missing of the Somme, which bears the names of more than 72,000 officers and men.
Basil Maclear: 7 April 1881 – 24 May 1915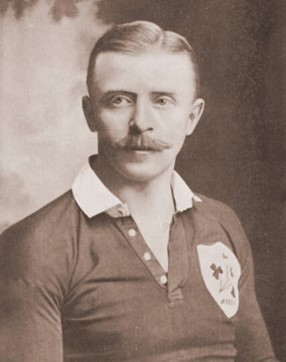 Basil Maclear was born in Portsmouth in 1881, the son of doctor and the youngest of five brothers. He was educated at Bedford School where he was regarded as a formidable all round sportsman. He won every event in an athletics meeting, track and field but he excelled at rugby and was playing for Blackheath at the age of 15. He went from Bedford to the Royal Military College Sandhurst where he represented the college at cricket, rugby, athletics and shooting and won the Sword of Honour in 1900. He was commissioned into the Royal Dublin Fusiliers and saw service during the Boer War from 1900 to 1902 and in Aden in 1903.
When his battalion returned to Ireland he continued his rugby career. He was tough player, six feet tall, weighing fourteen stone but able to cover 100 yards in ten seconds. He became famous for his try scoring, his vigorous tackling but most of all his ability to hand-off opponents attempting to tackle him. He played for Munster and was the team captain when they were defeated by the New Zealand All Blacks in November 1905 by a score of 33-0.
Maclear could not get a trial for England and so instead played for Ireland, qualifying by residence and birth (his father was born in Tyrone). He gained eleven caps for Ireland during which period Ireland won four of the matches. Three of those wins came against England. One match report against England recalled, 'Maclear was a natural rugby player in any position on the field. Darkie Sivright himself once tried to crash-tackle Maclear and met a hand-off that nearly dropped him unconscious'. Sivright would also be killed during the First World War.
Probably the most famous game Maclear took part in for Ireland was against South Africa, played in Belfast in 1906. Despite losing the game Maclear scored a try that drew widespread admiration. 'The try scored by Basil Maclear in the second half of the game, when Ireland were to all intents and purposes a badly beaten side, was one of the most remarkable ever obtained in the history of the game. There is certainly no other player in Great Britain who could have scored such a try. He was well inside his own '25' when he got possession of the ball from a loose melee, promptly disposed of his opponent and handed off Loubser, who tried to stop his progress. Getting up steam, he made for the left touch-line with the view of beating Joubert for pace. The Springbok full-back however, is no mean sprinter, and getting level with his man, promptly threw himself at the burly soldier as he dashed past. Maclear however, adopted his favourite tactics of handing off, 120 and these were repeated when Joubert made a second attempt to bring him down. With indomitable perseverance the plucky South African tried for a third time to stop the now almost inevitable score, but the Irishman had by this time got up a terrific speed. He was too strong for Joubert and he crossed the line and grounded the ball, having run fully eighty yards and handed off three opponents – one of them three times. It was an epoch-making event, and it is safe to say that the run will live for ever in the annals of the game'.
Basil Maclear continued his military career and in 1912 was sent to Sandhurst as the Inspector of Physical Training. In February 1915 he was called to rejoin his battalion in Belgian Flanders. On 14 April, after watching an exhibition of bomb throwing near Nieppe he refereed a rugby match between 48th (South Midland) Division and 4th Division. 48th Division was captained by England international Lieutenant Ronald Poulton-Palmer. The 4th Division side boasted five internationals from England, Ireland and Scotland. 48th Division won 17-0 but it was to be Poulton-Palmer and Maclear's last match.
Maclear was killed in action on 24 May 1915 while leading a bombing attack during the Battle of Bellewaarde Ridge, a phase of the the Second Battle of Ypres. His body was never recovered and he is commemorated on the Menin Gate in Ypres.
"No international in which he took part could ever be dull. His powerful form, in green jersey and white shorts, with white kid gloves cut down to mitts; his fair hair and moustache; his evident delight in the fray, together with his great reputation as a daring individualist gave spectators and players alike an exciting sense of anticipation, for there was always the chance that he might, by some unaided effort, some sudden rush, completely change the fortunes of a game. Nor were they often disappointed".
Alfred Mayssonnié: 10 February 1884 – 6 September 1914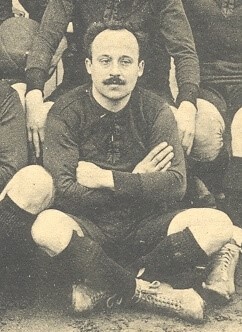 Nicknamed Maysso, Alfred Mayssonnié was born in 1884 in Lavernose near Toulouse. On leaving school he worked in a business run by his father but his great passion was rugby. He was remembered as "a slight, unmuscular figure, an honest workman with the air of a teacher or public servant." He played as scrum-half and fly-half for Stade Toulousain and is credited with being the main strategist of one of Toulouse's first great teams.
Mayssonnié had a successful career at club level, winning four national championships with three Toulouse teams in six seasons. The crowning moment of his club career came in 1912, when he started as fly-half for the Toulouse first team in the championship final against Racing Club de France. With Toulouse trailing 6–0 early in the second half, Mayssonnié scored the try that swung the momentum toward Toulouse, which went on to score a second try and win the first of their many titles.
Mayssonnié is believed to be the first player to be selected for the French national team while playing for Toulouse. Although he appeared only three times for France, he was nonetheless involved in two historic matches. His first appearance, in 1908 against England, was France's first match at Colombes, which would remain the national team's primary home until the opening of Parc des Princes in the 1970s. His final match in 1910, against Wales, was the first in the Five Nations era (i.e., involving France, England, Ireland, Scotland and Wales) of the competition now known as the Six Nations Championship.
On the outbreak of the First World War Alfred Mayssonnié volunteered for service and was appointed as a non-commissioned infantry officer. Within three weeks, he was cited for bravery in an action near Verdun. Mayssonnié's war did not last long as he was killed in action on 6 September 1914 at the Battle of the Marne. He was to be the first of over 100 rugby internationals, including twenty-three French internationals, to die during the First World War. His body might have been lost on the battlefield with so many others but his former Toulouse and France team-mate Pierre Mounicq buried Mayssonnié while under enemy fire. Two days later, a group of five men that included future French rugby administrator Paul Voivenel marked his grave. After the war his remains were exhumed and returned to Lavernose where Mayssonnié was reinterred in the local churchyard. He is remembered every 11 November, thanks to a plaque bearing his image, which is fixed to the monument to the dead in Toulouse depicting Hercules the Archer.
Maurice Jean-Paul Boyau: 8 May 1888 – 16 September 1918
Maurice Boyau was born in Mustapha, Algeria on 8 May 1888. As he grew up, he showed great prowess in a number of sports, including athletics, boxing, cycling, long-jumping and Association football, where he captained Sport Athletic Bordeaux in 1907, at the age of nineteen. As a rugby union player he was three-quarter wing (centre) and played initially with Union Sportive Dacquoise, known colloquially as US Dax. He also played for Stade Bordelais (with whom he won the French Championship in 1911) and Racing Club de France. Maurice was selected to play for France against Ireland at Parc des Princes, in Paris, on 1 January 1912, the first match for France in the 1911-1912 Five Nations' Championship, which they lost. Maurice remained in the team for France's next international, the match with Scotland at Inverleith on 20 January. Scotland thrashed the French 31-3, with the Scots scoring five goals, a try and a penalty goal to a solitary try by Les Bleus in front of a crowd of 20,000. The match report in The Times described the French forwards as ". . . though big, strong and heavy, not at all clever". He won six caps for France in 1913 and 1914 and captained the team twice. By the time the First World War broke out he was one of the most famous rugby players in France.
He joined the Armée de l'Air on the outbreak of war and acquired his pilot's badge on 28 November 1915. In late 1915, he was assigned as a flight instructor at Buc, near Versailles but managed to get himself transferred to a combat unit as a corporal in September 1916. He reached the rank of sous-lieutenant and spent the rest of his flying career with Escadrille 77, known as "Les Sportifs" for the great number of athletes in its ranks. Boyau originally flew a white Nieuport with a green dragon running down the full length of the fuselage. He scored his first ten victories between March and September 1917, including six balloons. During this spell, he shared the first of an eventual six balloon buster victories with fellow ace Gilbert Sardier. He was then commissioned and continued his exceptional record flying SPAD XIIIs, although with a less spectacular paint scheme.
In the spring of 1918, Boyau helped to pioneer the use of air-to-air rockets. He made his mark with repeated successes in the summer of 1918, scoring four victories in June; nine in July; and three in August. He destroyed his last four balloons in three days of September before he was shot down and killed by German fighter aircraft on the 16 September 1918. Credit was given to Georg von Hantelmann who was awarded the Pour le Merite a few weeks later.
Boyau accounted for 21 balloons (14 shared) and 14 aircraft (4 shared), ranking fifth among all French aces of the First World War. He earned the Médaille Militaire and Légion d'Honneur. The citation for his Médaille Militaire read "Pursuit pilot of audacious bravery. Three times cited in orders, and has to his credit an aircraft and a balloon. On 5 June 1917 he destroyed another balloon. Forced to land in enemy territory, he repaired his plane and flew back over the lines at 200 meters altitude, under fire of enemy machine guns." His Légion d'Honneur citation read "Pilot of remarkable bravery whose marvelous physical qualities are put to use by his most arduous spirit and fights at great heights. Magnificent officer with an admirable spirit of self-sacrifice, facing each day with the same smiling desire for new exploits, surpassing then succeeding. He excels in all branches of aviation; reconnaissance, photography in single-seaters, bombardments at low altitudes, attacks on ground troops, and is classed among the best pursuit pilots. He has reported twenty-seven victories, the last twelve in less than one month. Has shot down sixteen balloons and eleven planes. Has the Médaille Militaire and Chevalier de la Légion d'Honneur for feats of war. Eleven citations."
The current US Dax stadium is named after Maurice Boyau and a statue of him was erected outside in 1924.
Arthur Leyland Harrison VC: 3 February 1886 – 23 April 1918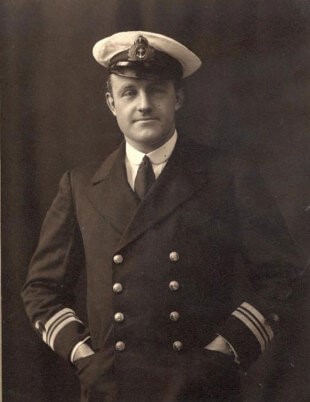 Arthur Harrison was born in Torquay, Devon, the son of an officer in the Royal Fusiliers. He was educated at Brockhurst Preparatory School and at Dover College where he is remembered every Armistice Day. At school Harrison was a tremendous all-round games player. Harrison enrolled as a cadet at the Dartmouth Royal Naval College in 1902.
When on the rugby pitch Lieutenant Arthur Harrison was described as 'a very sturdy and tireless forward' and began playing for Hampshire in 1910. Although the Navy team, which played annual matches against the Army from 1907 was still officers-only, he did not make it into that team until after he had played for England. When on leave he played for Rosslyn Park, giving as his address as "HM Torpedo Boat no 16, Portsmouth". Harrison was called as the England rugby team's sole debutant against Ireland on Valentine's Day 1914. He joined three team-mates from the United Services, Portsmouth club. These were the Navy half-back pairing of WJA 'Dave' Davies and Francis Oakeley and the soldier Harold Harrison. They saw Ireland take an early seven point lead, before England fought back to win 17-12, with wing Cyril Lowe - later a notable RAF air ace - scoring twice. The naval contribution did not go unnoticed, with the Times reporting that 'The English forwards, stiffened in the scrums by the two Harrisons, did better than against Wales'.
Arthur Harrison did not play in the Calcutta Cup match in 1914 in which England clinched the Triple Crown but he was recalled for the final match against France, which England won 39-13 in Paris and in which the dominance of their forwards made possible a torrent of tries by a brilliant back division including Lowe and skipper Ronald Poulton-Palmer. France's forwards included Jean-Jacques Conilh de Beyssac, who had played for Rosslyn Park.
Six months later Harrison was involved in the Battle of Heligoland Bight on 28th August. His ship, the battlecruiser HMS Lion sank the German ship Koln. As the flagship of Vice- Admiral David Beatty, Lion also went through the Battle of Dogger Bank and in 1915 and the Battle of Jutland in 1916. Harrison was mentioned in despatches after Jutland. He continued to play rugby for Rosslyn Park at Old Deer Park during which it was reported that he was "so fit that he would have played many times for England but for the war".
Harrison, who was promoted Lieutenant-Commander in 1916 and was put in charge of training the 1700 participants selected to take part in the raid on the German held Belgian port of Zeebrugge. He was then given the task of commanding one of the landing parties whose task was to disable the German machine guns mounted on the mole in Zeebrugge harbour. Coming alongside the mole on 23 April 1918 exposed HMS Vindictive, the ship to which Harrison had been seconded, to withering German fire. A number of officers were killed while Harrison was so seriously wounded that he was taken for dead and hauled below deck with his jaw shattered. Shortly afterwards he amazed both medics and his men by appearing on deck and insisting on leading his landing party. He charged up the ship's gangway and was shot down, as were all but two of his party. The wounded survivors were unable to retrieve his body.
Captain Alfred Carpenter, captain of HMS Vindictive was later to write that "Harrison's charge down that narrow gangway of death was a worthy finale to the large number of charges which, as a forward of the first rank, he had led down many a rugby football ground." He was one of eight men awarded the Victoria Cross for their actions at Zeebrugge. His citation read:
"For most conspicuous gallantry at Zeebrugge on the night of the 22nd-23rd April, 1918. This officer was in immediate command of the Naval Storming Parties embarked in 'Vindictive'. Immediately before coming alongside the Mole Lieut.-Commander Harrison was struck on the head by a fragment of a shell which broke his jaw and knocked him senseless. Recovering consciousness he proceeded on to the Mole and took over command of his party, who were attacking the seaward end of the Mole. The silencing of the guns on the Mole head was of the first importance, and though in a position fully exposed to the enemy's machine-gun fire Lieut.-Commander Harrison gathered his men together and led them to the attack. He was killed at the head of his men, all of whom were either killed or wounded. Lieut.-Commander Harrison, though already severely wounded and undoubtedly in great pain, displayed indomitable resolution and courage of the highest order in pressing his attack, knowing as he did that any delay in silencing the guns might jeopardise the main object of the expedition, i.e., the blocking of the Zeebrugge-Bruges Canal."
He is commemorated on the Zeebrugge Memorial and the winner's trophy for the International Defence Rugby Competition is named after him.
Edgar Mobbs: 29 June 1882 - 31 July 1917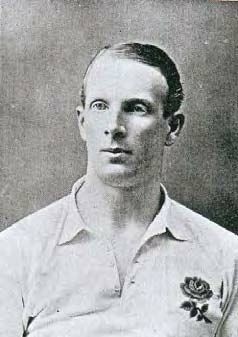 Edgar Mobbs (Mobbsy) was born and raised in Olney in Buckinghamshire and was educated at Bedford Modern School. He began playing rugby for Northampton Saints in 1905, became club captain in 1907 and went on to score 177 tries for the team over eight years. In 1909 he was selected by England to face the Australians. In this match he scored a try, the first ever for England against Australia but the game was lost by three points to nine. Edgar gained seven England caps in all and captained his final international match in 1910, against France. England won this away match by three points to eleven. Edgar continued to play first class rugby for Northampton, East Midlands and the Barbarians until 1913, when at the age of thirty one he decided to retire. Edgar also played rugby for Toulouse, where he became a great favourite. It is said that his large physique, pace, strength and tremendous 'hand-off' made him one of the most dangerous attacking three-quarters of his time. He also played cricket for Buckinghamshire.
When war broke out he was managing an auto car company in Market Harborough. He was initially refused a commission for being too old (33) and so joined the Northamptonshire Regiment as a private soldier. Through his fame as a rugby player he managed to raise his own company of 264 men, which became D Company, 7th Battalion, Northamptonshire Regiment. The company included other rugby players including E Butcher, captain of Devon, and H Willett, captain of Bedford.
Mobbs was subsequently commissioned and sent to France where he fought in the Battle of Loos. By the Battle of the Somme he had been promoted to Lieutenant Colonel and was in command of 7th Battalion. He was wounded at Guillemont in August 1916 and by the end of the Battle of the Somme had been awarded the DSO and been Mentioned in Despatches twice.
On the first day of the Third Battle of Ypres, 31 July 1917, Edgar Mobbs led his battalion from the front close to Shrewsbury Forest between Zillebeke and Hill 60. He was killed in action at Lower Star Post while trying to bomb a German machinegun post. His body was not recovered and he is commemorated on the Menin Gate.
In 1921 the first Edgar Mobbs Memorial Match was played at Franklins Gardens, Northampton between theEast Midlands and the Barbarians. The match is still played annually and is now played at Northampton and Bedford in alternate years. In July 1921 a bust of Edgar Mobbs was unveiled to his memory at the north end of Northampton's Market Square. The monument, by Alfred Turner, carries reliefs of 'Sport' and 'War' and is surmounted by a heroic female figure. The inscription reads 'In memory of Edgar R Mobbs DSO, erected by subscriptions of admirers the world over, to the memory of a great and gallant soldier sportsman. When the Great War broke out he founded 'Mobbs Company', joined as a private and rose to command a battalion to which it belonged. He did his duty even unto death'. In the 1930s the monument was moved to be near the town war memorial in Abington Square. The bust is wreathed after the Mobbs Memorial Match.
John Lewis Williams: 3 January 1882 – 12 July 1916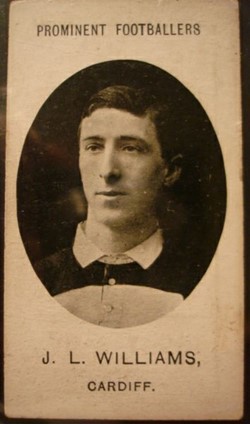 Johnny Williams was born Llwyncelyn, Whitchurch, Glamorgan in 1882. He was educated at Cowbridge Grammar School. In 1899 he began playing for Newport RFC on the wing. In 1903 Lewis moved to Cardiff for business and began playing for Cardiff RFC, scoring ten tries in his debut season.
By the start of the 1906–07 season, Williams was considered one of the best wings in all of the Home Nations. He was noted for his turn of speed, clever dodging, and determined running for the line. Williams earned his first cap for Wales on 1 December 1906 in Swansea against South Africa. Wales lost the game, the first defeat at home in 11 years. He continued to represent Wales until 1911 becoming the country's top points scorer. A three times Triple Crown winner, out of seventeen appearances for Wales he was on the losing side only twice. Williams retired from playing at the end of the 1910–11 season.
On the outbreak of the First World War Johnny Williams enlisted in the Royal Fusiliers on 24 September 1914 and was subsequently commissioned as a second lieutenant in the 16th Battalion Welsh Regiment in the December. He was promoted to lieutenant in February 1915, and to captain the following month. His battalion deployed to the Western Front in December 1915 as part of the 38th (Welsh) Division.
During the Battle of the Somme, on 7 July 1916, 16th Battalion Royal Welsh Regiment took part in the assault on Mametz Wood. Johnny Williams led C Company in the attack from the northern end of Caterpillar Wood. They were caught immediately by German machinegun fire from Flat Iron Copse. Williams was wounded and evacuated from the battlefield. He died of his wounds on 12 July 1916 while in No.5 Casualty Clearing Station. He is buried in Corbie Communal Cemetery Extension (Plot 1, Row C, Grave 31).
Ernest Cotton Deane: 4 May 1887 – 25 September 1915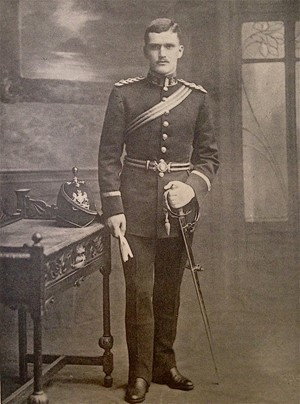 Ernest Deane, born in the city of Limerick, Ireland on 4 May 1887. He went to Corrig School, Kingstown, from 1901 to 1904 then went on to study medicine at the Royal College of Surgeons in Ireland from 1904 to 1909. He became house surgeon at the Adelaide Hospital, Dublin.
Deane was an all-round sportsman, skilled in golf, lawn tennis, horse-riding and shooting and at Corrig, Deane was captain of the school's rugby XV. He later captained the Adelaide Hospital XV, and the Monkstown XV. He was selected to play wing for Ireland in the match against England at Lansdowne Road, Dublin, on 13 February 1909, which Ireland lost 5–11. It was England's first victory on Irish soil since 1895. At the beginning of the following season Ernest Deane broke his leg during a match, which ended his rugby career.
Deane was commissioned as a temporary lieutenant in the Royal Army Medical Corps in July 1911. In October 1913, he went to India and served in Burma. He was stationed at Meerut when the First World War broke out and deployed to France with the Garhwal Brigade of the 7th (Meerut) Division in September 1914. He was attached to the 20th Field Ambulance, and later served as medical officer of the 2nd Battalion, The Royal Leicestershire Regiment, in active service on the Western Front.
While with 2nd Leicesters he was awarded the Military Cross.His citation read, 'For conspicuous gallantry on 22nd August 1915, near Fauquissart. A standing patrol 120 yards in front of our line was bombed by the enemy at about 10 p.m., the only notification being two loud bomb explosions. Captain Deane, without any knowledge of the enemy's strength, at once got over the parapet and ran by himself to the spot under rifle and machine gun fire. Finding four wounded men he returned for stretchers and got them back into safety. This is not the first time that Captain Deane's gallantry under fire has been brought to notice.'
On 25 September 1915, Deane's the 2nd Leicesters took part in the Battle of Loos, in a diversionary attack by the Indian Corps to the north of the main battlefield towards Neuve Chapelle. The artillery bombardment prior to the infantry assault failed to destroy the German wire and many of the battalion became caught up. Ernest Deane went to help and when returning across the open, he was killed instantly by a bullet to the head. His Colonel, who was himself badly wounded, wrote to Deane's family saying; 'He was the most gallant fellow I ever met, and we all loved him in the regiment, both officers and men. He was just a part of us, and the few of us left mourn his loss very deeply. We had a big battle on the 25th, and your son went out to try and help some wounded in and got killed. I believe his death was instantaneous, but I am not sure, as I was wounded myself, and had to be taken back. His body was recovered and was buried by our Padre, and I will give you exact location of cemetery afterwards. Everyone knew Deane as one of the bravest of the brave, and it was only the other day that he got one of the best deserved and gallantly won honours, when he was awarded the Military Cross'.
Ernest Deane was posthumously mentioned in despatches and is buried in Rue-du-Bacquerot No 1 Military Cemetery, Laventie, France (Plot II, Row D, Grave14).
Cecil Halliday Abercrombie: 12 April 1886 – 31 May 1916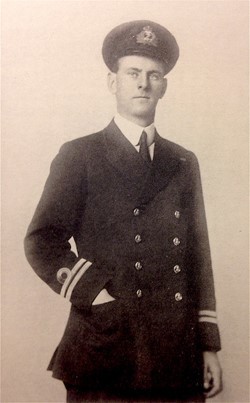 Cecil Halliday was born on 12 April 1886 in Mozufferpore in Indian Empire, his father being an officer in the Indian Police. He attended Allan House School, Guildford, and then Berkhamsted School. On leaving school, Abercrombie joined the Royal Navy, undergoing officer training at Britannia Royal Naval College, Dartmouth. Both at Berkahmstead and Britannia, he excelled in cricket and rugby, playing in the first XI and XV for both. At Britannia he won in the high jump, long jump, racquets, fives, and swimming.
Cecil Abercrombie played for United Services RFC and was capped six times for Scotland between 1910 and 1913. He played as a forward, and was said to have 'abundant energy... a splendid physique, great speed and height, and a good pair of hands'. He tackled hard and low, and was also an adept place-kicker. He played against France twice scoring a try in 1911and setting up a try in Scotland's 32-3 victory in the Parc des Princes on 1 January 1913. Abercrombie also played county cricket for Hampshire, batting in sixteen matches, including two centuries and two half centuries, with an average of over 40.
Abercrombie passed out from Britannia in 1902. He served aboard HMS Hyacinth from which, in April 1904, he was in the landing party which captured "Mullah" Hassan's stronghold at Illig, on the east coast of Somaliland (present day Somalia), part of the protracted Somaliland Campaign.
At the outbreak of the First World War Abercrombie was serving in the Mediterranean on the Minotaur class cruiser, HMS Defence. In January Defence was transferred to the Grand Fleet. During the Battle of Jutland on 31 May 1916, she was the flagship of Rear-Admiral Sir Robert Arbuthnot, leading the First Cruiser Squadron. During the battle HMS Defence was engaged by the German battlecruiser SMS Derfflinger and was hit in her magazines. The ship exploded and sank with the loss of her entire crew of 900 including Cecil Abercrombie. He is commemorated on the Plymouth Naval Memorial.
Article last edited on 8th Feb 2017. More information to follow during the Six Nations tournament.
About the author
The author of this article is John Greenacre, a military historian, battlefield & historical guide. Follow John on Twitter for further historical insights @Persistive or head over to his blog.
References
Cooper, Stephen. After The Final Whistle. 1st ed. Stroud, Gloucestershire: The History Press, 2015. Print.
McCrery, Nigel. Into Touch. 1st ed. Print.