AI surrounds us, and it's not going away any time soon. In fact, it's only getting smarter, more efficient, and more integrated with everyday life.
Wherever you stand on the rise of artificial intelligence and its applications to everyday life, it's undeniable that AI is already a powerful tool, but what place does AI have in the education sector and as a teaching aid?
Can AI be a teachers new classroom assistant?
There is no doubt, used effectively AI tools can help to enhance the quality of education being delivered, save time for classroom preparation, boost efficiency, make teaching more rewarding, and much more.
AI can also help teachers create lesson plans, assess student progress, and provide tailored feedback. It can automate time-consuming tasks such as marking and grading, giving educators more time to focus on their students and their own professional development.
In addition to the more practical day-to-day benefits like supporting lesson planning and grading, AI can also be leveraged to stimulate student and teacher creativity. These benefits are often just as valuable to educators, helping to generate content and ideas specific to your learning objectives, or simply as a conversation starter or classroom activity.
Using AI to improve accessibility in the classroom
The opportunities that AI presents for improving accessibility for students with learning disabilities or impairments are equally impressive. AI can assist in detecting and supporting students with additional needs, with several studies (Chen, Y., Jensen, S., Albert, L.J. et al., 2023, Mollick, Ethan R. and Mollick, Lilach, 2023, Mehta, Pradnya, et al., 2023), highlighting that it can support self-paced learning by assessing the needs of the student and applying adapted forms of learning.
This can make it much easier for educators to offer tailored support to students, whether that's through AI automatically adapting course content, or offering personalised online tutoring and chatbots for extra help.
7 AI tools to enhance the potential for learning
Many of you may be wondering how integral AI is going to be in the future of teaching and whether it can be avoided, or you may have negative views on it.
We want to highlight why we believe AI is a fantastic tool that doesn't aim to replace the educator, but in fact, enhances the learning experience and ultimately saves you time, which may well be music to your ears!
Whether you already use AI or just want to find out more, the power is in the educator's hands to choose which tools work best for them and their individual teaching methods.
So, if you're interested in finding out more about the top AI tools and resources for educators in 2023, take a look below.
1. Quizizz
Quizizz is a browser extension (for Chrome) that uses AI to create interactive quizzes and questions from any publicly accessible websites, links, news articles, educational content, or YouTube videos (with closed captions or transcripts).
Simply open your Chrome browser to add the extension, so that when you're visiting a webpage going forward, you can select the Quizizz tool to generate a quiz (the jigsaw icon in the top right stores all your extensions). If you can't access the Chrome browser, it's also downloadable on the App Store).
We love Quizizz to create quizzes from anywhere, whether you're planning lesson content in advance, or encouraging your students to test themselves in or out of the classroom.
When you first use the tool, it asks whether you're a teacher or student and what you'd like to use the tool for, so it can tailor your experience. Try it yourself here Quizizz AI: Turn Any Website into a Quiz - Chrome Web Store (google.com)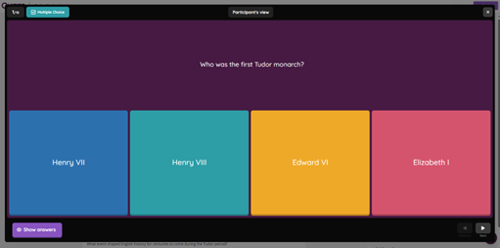 2. Bing Image Creator
Create custom images from your own words in moments with this incredible AI-powered image generator tool. This is a particularly innovative tool for educators in creative fields, where you can create digitally generated art with a classroom of students in real-time to illustrate different art movements and styles together, or to stimulate new methods of out-the-box thinking.
Many illustrators avoid AI art, believing that it's similar to tracing another person's artwork (because it takes elements from existing images), and it's true that you can't claim ownership of AI images in a commercial capacity.
Nevertheless, students can still use AI art as inspiration, approaching these tools much like they would with Google or Pinterest. For example, they may focus on a particular concept they're struggling to visualise to see how AI interprets it. This incredible tool is free to use and offers almost infinite avenues for creativity – the only limit is your own imagination! Use it yourself here https://www.bing.com/create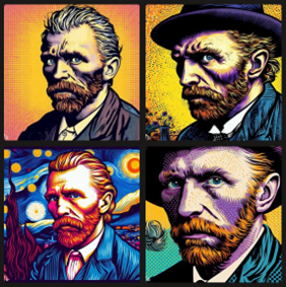 3. Gradescope
Gradescope is an online grading tool that supports workflows for students and educators, by making it easy and efficient to organise, grade, and provide feedback for assignments. It's designed to standardise and streamline workflows across different mediums, whether that be paper-based assignments, digital assessments, or anything in between.
The tool supports variable-length assignments, as well as fixed-template assignments such as worksheets, quizzes, and exams. Gradescope also offers AI-assisted answer groups that group similar student answers that educators can then review and grade.
Gradescope is a popular tool among educators because it provides a clear picture of each student, their progress, and saves time grading. If you're interested in using Gradescope, you can sign up for a free demo on their website. Try it here https://www.gradescope.com/
4. Fetchy
Fetchy is a virtual assistant that was created by a real teacher. It was designed specifically to support educators and the way they work, meaning it's very different from conventional search engines which produce a wide range of results for queries. As Fetchy is designed specifically for educators, it generates more concise, relevant, and accurate results.
The tool is designed to help educators save time, increase efficiency, and improve the quality of their work. It offers a range of tools that can help educators plan and create lessons, find projects, produce feedback, and much more. Try it for yourself at https://www.fetchy.com/
5. Plaito
Plaito is an AI-powered platform which was designed to act as a personal tutor for students. It includes a selection of tools and features that aim to support student learning and make it easier for them to learn, practice, and understand materials. The platform can help students create better essays, identify key concepts, learn faster with flashcards, plus much more.
It's designed to make learning more effective by leveraging AI to effectively deliver one-on-one tutoring, which is specific to the individual student. It also allows students to collaborate with friends to make learning more fun and more effective. So, if you think your students could benefit from tailored tutoring on an individual level, this is a great tool to recommend. Try it yourself here https://www.plaito.ai/
6. Century Tech
Century Tech is an AI teaching and learning platform for schools, colleges, and universities that integrates student data with cognitive neuroscience to provide individual lesson plans. It also tracks each student's development over time and suggests areas for improvement in their education.
Each user receives customised study suggestions and as a result, educators have less to do, thanks to these bespoke programs. It provides educators with time-saving tools that help with everyday tasks, such as lesson planning and grading. Try it yourself here CENTURY | Online Learning | English, Maths and Science
7. Bing Chat
Bing Chat is an AI chatbot that provides helpful answers to a wide range of questions, both simple and complex. You can use it to conduct research across a range of subjects, making it easier than ever to consume the most relevant content in a succinct, personalised format that's useful to you.
Whether you want to source ideas for lesson plans, find the most relevant educational resources, or increase student engagement by using the feature live in-classroom, there are several benefits of using this feature. Bing Chat will also soon be able to summarise more types of longer-form website content such as PDFs, making it even easier to consume dense content online. Try it yourself for free here https://www.bing.com/new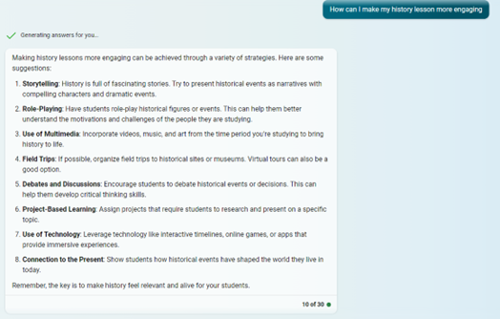 The future of AI in the classroom
AI opens many doors for students and educators, performing most successfully when combined with impactful personal interactions, activities, and lessons.
Utilised effectively, AI has the potential to transform education in many ways, from automating administrative duties and saving time, to improving accessibility and providing real-time feedback to students and teachers.
This is not to take away from the value of personal interaction in education, which will always be at the forefront; but rather to help streamline processes, elevate communication, and enhance learning in new and exciting ways.
Whether you already use some of these AI tools, or it's given you a starting point to conduct your own research, we hope this has provided some inspiration to shape your approach to teaching in the future.
Get in touch with us on our social channels to let us know your thoughts on the application of AI tools in education.
We'd love to hear your opinions!